Discover E-stat our new connected thermostat with automatic programming for a unique user experience.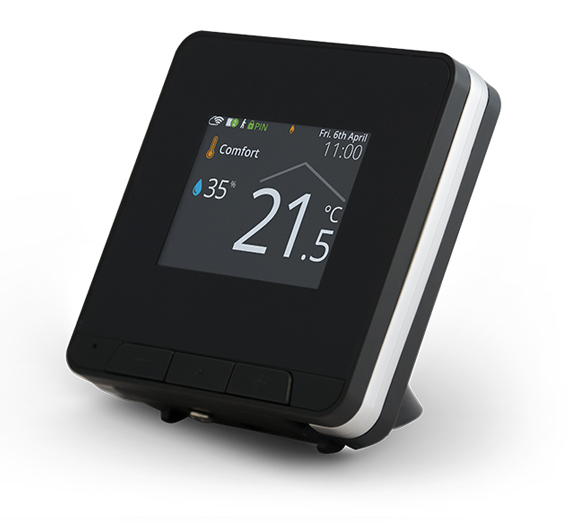 Exclusive style and revolutionary colour touch screen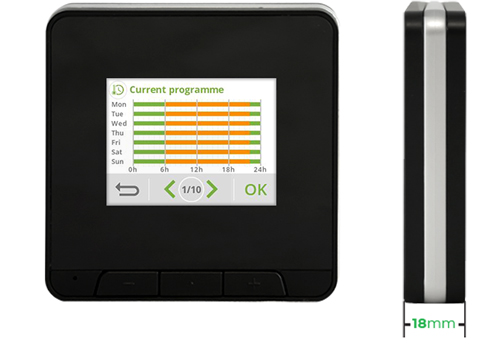 The thermostat is available in black or white, and due to its thinness, it is ultra-discreet once installed on a wall and will match any interior.
Its intuitive interface gives it optimal readability of information and its tactile technology offers simplicity and fluidity of navigation.
For more ergonomics, 3 physical buttons are in relief and easily identifiable by touch.
Our goal is to make connected thermal comfort accessible to the greatest number of users!











Very versatile and auto-adaptative
Compatible with most electrical, hydraulic and cooling systems, the thermostat selects the type of control most appropriate for the environment and auto-adapts according to the inertia.
Its high performance algorithms developed by our teams of engineers guarantee a level of excellence in control, whatever the type of equipment controlled: boiler, radiators, underfloor heating, unit heater ...





Direct connection to the home wifi network
The thermostat is directly connectable to your Internet router without an additional box or additional subscriptions.




A concentration of technologies for maximum comfort at minimum cost!



Remote control on smartphone, tablet and computer or by voice thanks to the free app







Automatic programming: self-learning, the thermostat learns your life patterns without any input allowing it to set the right temperature at the right time!







Dual optimization feature: the anticipation of comfort or priority to savings, the choice is yours.






Innovative occupancy detector: a drop in temperature in case of absence to avoid heating an unoccupied room.







Gauge and indication of estimated consumption in KWh for an eco-responsibly behaviour.







Automatic window open detection: an automatic temperature drop during a room ventilation, avoids the wasted energy.







Dual lock of the display and PIN code locking: possible to lock settings and better manage energy consumption.



And many other features for well-being and energy efficiency.
Available in wired version and soon in wireless version on table stand.




A solution from SMARTHOME connected and customizable ecosystem
E-Stat fits fully into this intelligent and scalable IoT universe, customizable to your sector of activity.